Tinnitus (2019)
in collab w/ Max Paulus, interactive installation


Tinnitus is an interactive installation that mimics the uneasy environment caused by hearing noises in the absence of any external sound.

Tinnitus is often described as a ringing or buzzing, as a combination of intermixing sounds that induces a feeling of helplessness. As tinnitus is a natural compensatory mechanism of one's own brain, the mere acceptance of it as such can bring relief. The sculpture aims to take part in this acceptance by recreating the sleeping pillow of a patient with Tinnitus.

The installation consists of a touch-sensitive sleeping pillow placed on a transparent box that intentionally displays the sources of digital artefacts. The pillow mimics the sound mixtures reported by patients, consisting of high-frequency tones on a fluctuating noise background. The installation invites spectators to explore the role of interactivity and control the intensity of their tinnitus by figuring out their own acceptance levels.

The installation consists of an interactive sleeping pillow. Tinnitus patterns are sewed on the pillow surface by using conductive thread and copper wires. Through their conductivity, these patterns act as capacitive sensors and control the sound output. Each pattern represents a Tinnitus sound described by Tinnitus patients.

Materials: Copper wire, conductive thread, cotton thread, cotton fabric, crocodile clips, acrylic sheet, microcontroller, speakers, MP3 player, Arduino software (IDE), Python.
Tinnitus, herhangi bir dış ses yokluğunda duyulan seslerin yarattığı rahatsız edici ortamı taklit eden, etkileşimli bir enstalasyon.

Kulak çınlaması, genellikle çınlama, uğultu, ya da iç içe geçmiş sesler kombinasyonu gibi çaresizlik hissi uyandıran sesler olarak tanımlanır. Kulak çınlaması beynin doğal bir dengeleme mekanizması olduğundan, bu şekilde benimsenmesi kişide rahatlama hissi uyandırabilir. Heykel, kulak çınlaması olan bir hastanın uyku yastığını yeniden yaratarak bu benimsemede yer almayı hedefler.

Enstalasyon, dijital artefaktların kaynaklarını kasıtlı olarak gösteren şeffaf bir kutuya yerleştirilmiş, dokunmaya duyarlı bir uyku yastığından oluşur. Yastık, kulak çınlaması rahatsızlığı olan kişiler tarafından tanımlanmış ve değişken bir gürültülü arka planda oluşan yüksek frekanslı tonları içeren ses karışımlarını taklit eder. Eser, ziyaretçileri etkileşimin rolünü keşfetmeye ve kendi kabul seviyelerini bularak kulak çınlamasının yoğunluğunu kontrol etmeye davet eder.

Enstalasyon etkileşimli bir uyku yastığından oluşur. Yastığın üzerine iletken ip ve bakır tel kullanılarak Tinnitus motifleri işlenmiştir. Bu motifler, iletken özellikleri sayesinde kapasitif

sensör görevini görmektedir ve yerleştirmenin ses çıktısını kontrol etmeye yararlar. Her motif, Tinnitus hastaları tarafından betimlenmiş bir Tinnitus sesini temsil eder.

Materyaller: Bakır tel, iletken ip, pamuk ip, pamuk kumaş, bağlantı maşası, akrilik levha, mikrokontrolör, hoparlör, MP3 player, Arduino software (IDE), Python.




Tinnitus was going to Sonar+D Barcelona in June 2020 as part of QMUL MAT group show. The festival is cancelled due to Covid-19. Tinnitus is now included in raum www, a fragmentary archive of exhibitions affected by Covid-19. While the physical Tinnitus sits in a garage somewhere in Italy, a digital image of Tinnitus appeared as a fragment in raumwww's exhibition nothing's gonna change my world? at gr-und Berlin. The exhibition is accomponied by a publication that presents artist interviews about how Covid-19 changed the artists' working conditions.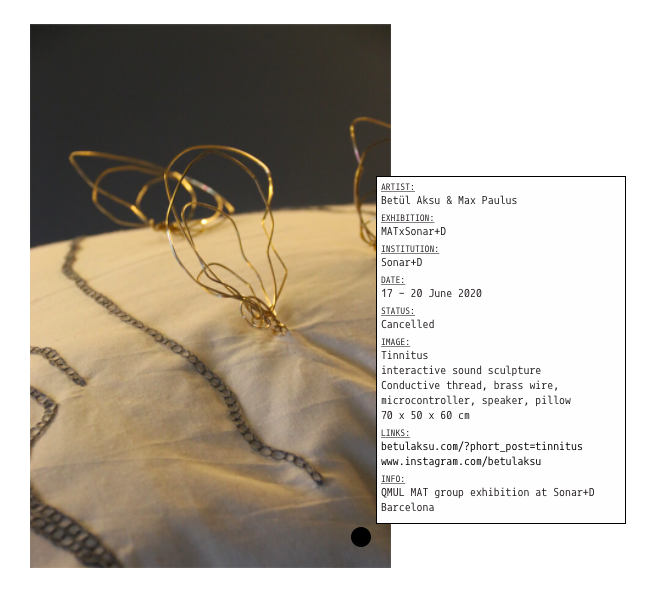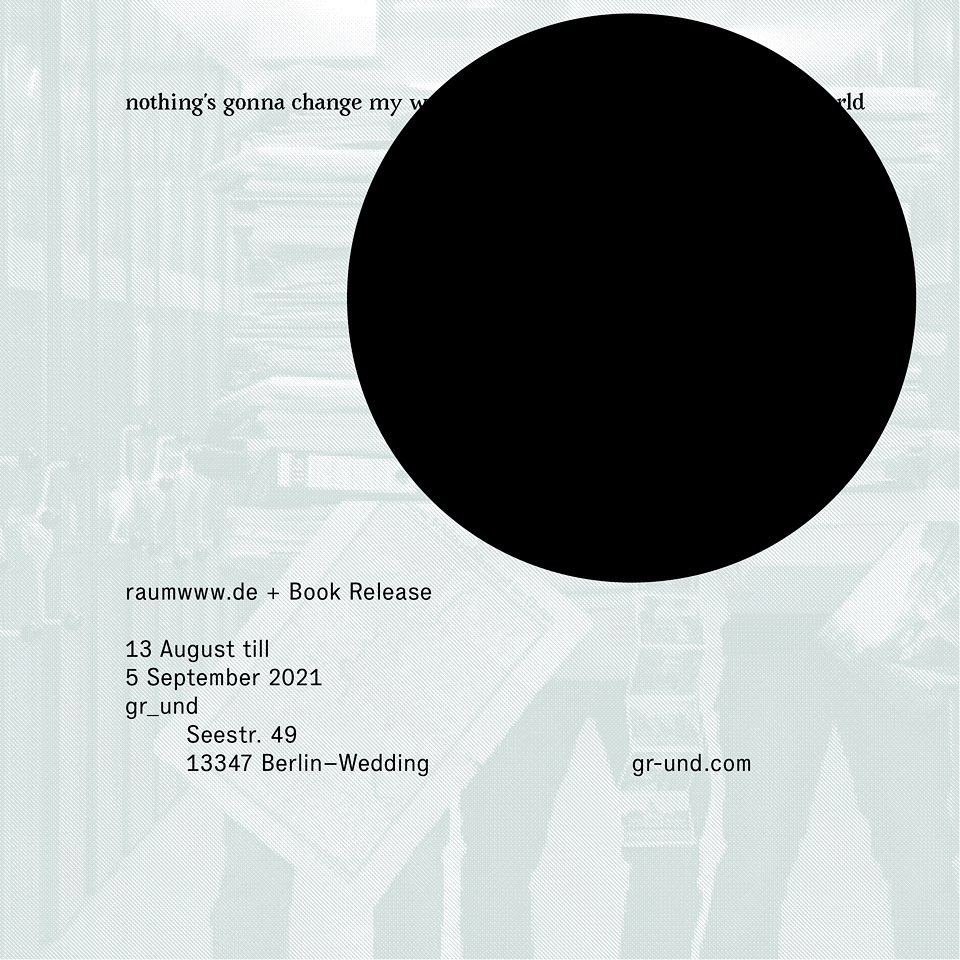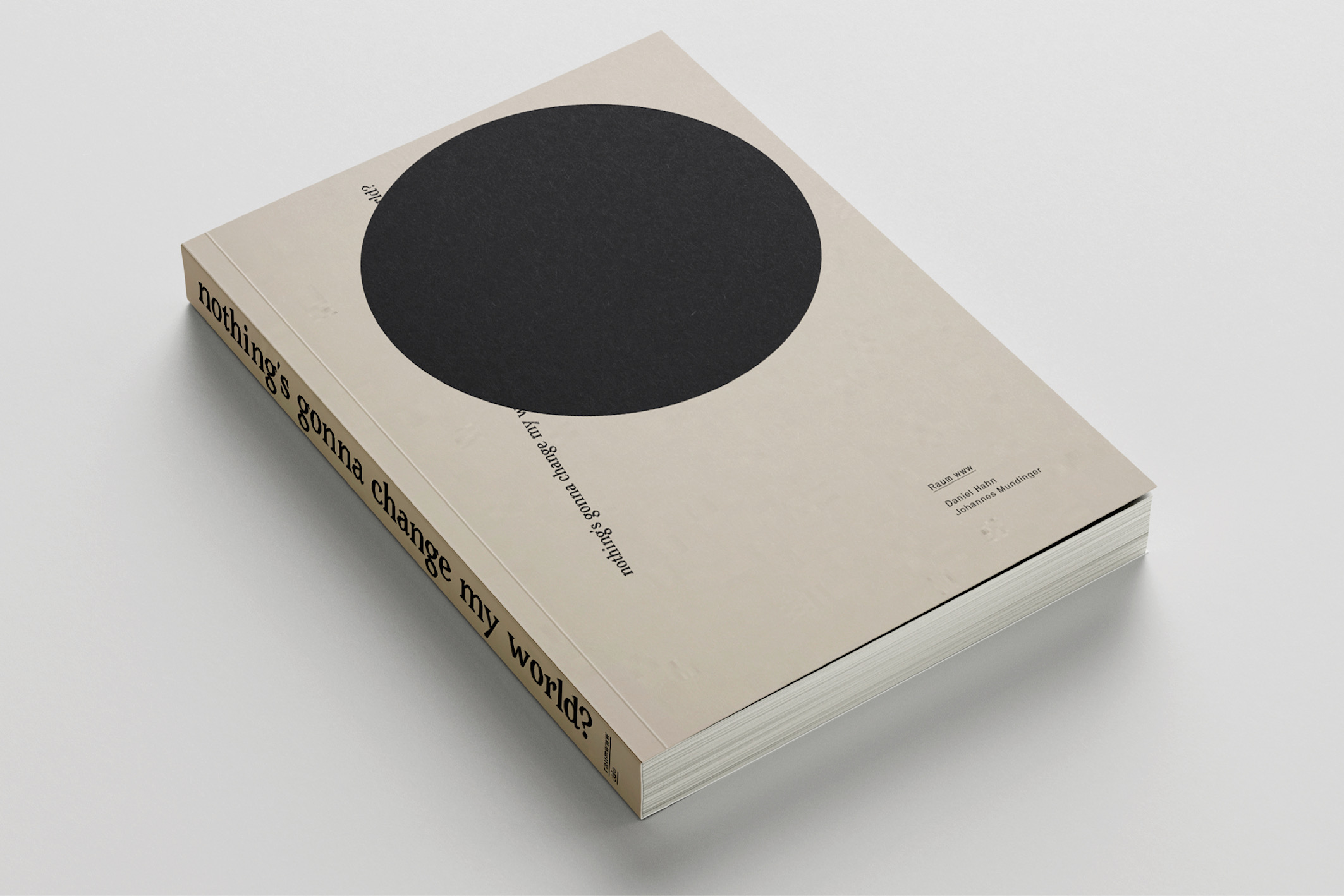 Photo & video credits: Betül Aksu, bang.Prix, raumwww