About | Hakkında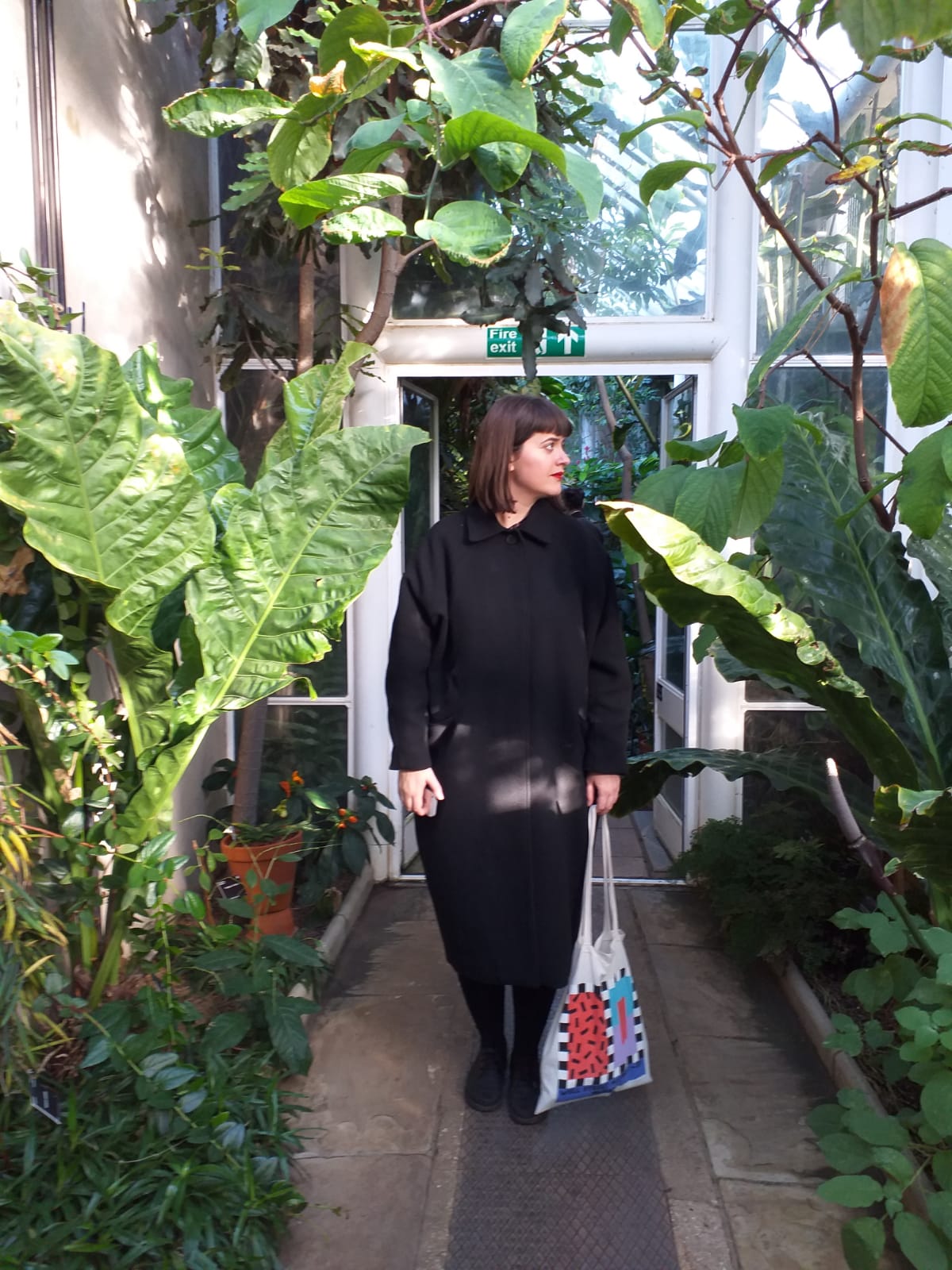 Photo credit: Mum
| English

Betül Aksu (b. 1990, İzmir) is an artist and researcher with a background in media arts, cognitive science, and linguistics. Her work explores what it means to be permitted to live, work, and breathe in a certain territory. She uses language as an art material, observes intercultural miscommunication, and reflects on systemic reasons that cause communication barriers.

Currently, she is a research fellow at the School of Commons at Zurich University of Arts, where she leads Eligibility Criteria (and beyond) lab which investigates the ways in which eligibility criteria in art open calls reproduce oppression through bureaucracy.
| Türkçe

Betül Aksu (d. 1990, İzmir); medya sanatları, bilişsel bilim ve dilbilim alanlarında geçmişe sahip bir sanatçı ve araştırmacı. İşlerinde belirli bir bölgede yaşama, çalışma ve nefes alma izninin ne anlama geldiğini inceler. Dili bir sanat malzemesi olarak kullanır, kültürlerarası iletişimsizliği gözlemler ve iletişim engellerine sebep olan sistemik nedenler üzerine kafa yorar.

Şu anda Zürih Sanat Üniversitesi'ne bağlı School of Commons'da Uygunluk Kriterleri (ve ötesi) isminde bir araştırma yürütüyor ve sanat açık çağrılarındaki uygunluk kriterlerinin bürokrasi yoluyla baskıyı nasıl yeniden ürettiğini inceliyor.
Group Exhibitions & Performances | Grup Sergileri ve Performanslar



Coulisse

, Mixer, 14.01.2022 - 27.02.2022, İstanbul


Bureau of Commons

, performance at School of Commons ZHdK, 09.2021, Zürich


Libertikons

, STAMP Altonale, 09.2021, Hamburg


Nothing's gonna change my world?

, 08.2021, gr-und Berlin


In Your Hands

, Newlyn Art Gallery, 07.2021 Cornwall


Kula

, Ecumene Project, 05.2021, online


Freedom of Movement?

, Journeys International Festival, 10.2020, UK - moved to online


The Garden of Forking Paths

, Ars Electronica, 09.2020, Linz -moved to online


Take Dada Seriously?

Guest Projects London, 06.2020, London -moved to online


Easy speaking & effortless listening

, the Royal Institution of Great Britain, 03.2020, London
Weave It!, Stour Space, 11.2019 London
Plugin, Contemporary Istanbul, 09.2019, Istanbul
Peripheries, The Glucksman Gallery, 07.2019, Cork, Ireland
bang.Prix, Studio-X Istanbul, 06.2019, Istanbul
M.I.I Manifold, TTC Architecture & Design, 04.2019, London


Error: The Art of Imperfection

, Ars Electronica, 09.2018, Linz, Austria


Across the Line

, Zorlu Performing Arts Center, 11.2017, Istanbul


Here Eyes Under The Bridge

, group performance w/ Tara Fatehi Irani, LADA, 07.2017, London


Intersections

, Mile End Art Pavilion, 09.2016, London
Dorkbot London #90, Limehouse, 11.2015, London



Education | Eğitim

Ph.D. in Media and Arts Technology, Queen Mary University of London, UK • interrupted
MSc. in Language Science and Technology, Saarland University, Germany •2015
MSc. in Cognitive Science, CIMeC, University of Trento, Italy •2014


BA(Hons) in Linguistics

,

Hacettepe University, Turkey •2013



Talks | Konuşmalar

Am I eligible to apply? Kitchen Session talk, School of Commons •2021
Freedom of Movement? panel talk, Journeys Festival International •2020
Salon: Digital Dada panel as part of Take Dada Seriously? exhibition, online •2020
The Role of the Audience in Interactive Art, bang.Prix seminar talk, Studio-X-İstanbul •2019
Art, Automation and Intersectionality panel, Automation and Me symposium, Leeds International Festival •2019
Audience Engagement with Text-based Interactive Art, MAT Open talk, Media and Arts Technology Doctoral Training Centre, London •2018



Fellowships, Residency & Workshops | Sanatçı Rezidansı & Atölyeler


School of Commons READ Fellowship, Zürich University of the Arts •2021
Coding Resistance Fellowship, Futuress •2021


Liberty EU Creative Europe

Artists' Exchange, online •2020


AltCity Istanbul Digital Arts Residency

, British Council & Zorlu PSM, Istanbul •2017



Awards, Grants, Commissions | Ödüller ve Fonlar

Creative Europe Liberty EU Art Commission, Artreach UK •2020-2022
Media and Arts Technology Doctoral Training Centre Public Engagement funds •2016-2019
Engineering and Physical Sciences Research Council UK Research Studentship •2015-2019
Queen Mary University of London PGR Students Sponsorship •2015-2019
Erasmus Mundus Language and Communication Technologies Category-A LCT Scholarship •2013-2015
Erasmus Lifelong Learning Program Grant, Hacettepe University •2011



Teaching | Verilen Dersler



Professional & Research Practice

, Queen Mary University of London •2016-2021
Graphical User Interfaces, Queen Mary University of London •2017-2018
Interaction Design, Queen Mary University of London •2016-2018



Collaborations | İş birlikleri

Tinnitus w/ Max Paulus, University College London, Queen Mary University of London, bang.Prix •2018-2019
in Conversation w/ squidsoup, British Council, Zorlu Performing Arts Center •2017
Her Eyes Under the Bridge w/ Tara Fatehi Irani, LADA London •2017
From Dada to Java w/ Victor Loux, Sophie Skach, and Zhou Tang •2016



Publications | Yayınlar

Reason: Other personal, in Researching the Researcher, School of Commons publication (upcoming in 2022)
Kulaktan kulaga, chinese whispers, or arabic telephone in O'Sullivan, J. [Chair] (2019) Electronic Literature Organization Conference & Media Arts Festival (ELO2019), Programme and Book of Abstracts, University College Cork, Ireland, 15 -17 July
Exploring Audience Reading Behaviour through Interactive Public Displays, the Proceedings of 32nd BCS Human Computer Interaction Conference, Belfast, UK (2018)